Questionnaire: Is Your Home Conducive to Reading?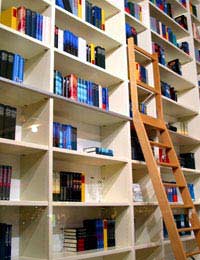 One of the best ways to encourage literacy is to make your home an environment which promotes reading. By providing a variety of reading materials and ensuring that your home is physically comfortable for reading you can help eliminate some of the most common obstacles to leisure reading.
We have put together the following questionnaire to help you analyse the kind of reading environment offered in your home. Answer "yes" or "no" to each question, then total your answers. Match the total number of "yes" answers to the explanations at the end to find out if your home is conducive to reading:
Is Your Home Conducive to Reading?
1.
Do you have books, magazines and other reading materials in your home?
2.
Does your home feature comfortable seating areas for reading at length?
3.
Are you able to create a quiet atmosphere when someone is reading?
4.
Do you have good lighting in at least one room by which someone could read?
5.
Is your home relatively clutter-free?
6.
Have you created personal libraries (or a personal book shelf) for each family member?
8.
Do family members often discuss what they are reading?
9.
Do you have an area where the whole family can gather to read aloud together?
10.
Do you schedule reading times for your family?
11.
Do you follow up on questions asked by your children while they are reading?
12.
Do you encourage your children to try out activities they discover while reading?
Is Your Home Conducive to Reading?
If you answered "yes" to between one and four questions
- then your home is most likely not conducive to reading. Review your answers to discover if your home lacks the physical comforts required to promote reading, the materials required for your family members to read regularly or a combination of both. Don't feel that you need to spend a fortune re-designing your home or putting together libraries for your family to become more dedicated readers. A quick tidy, removing distractions from a dedicated reading area and a trip to the public library may be all you need to better foster a love of reading in your home.
If you answered "yes" to between five and eight questions - then your home may be conducive to reading. An acceptable reading area and selection of reading materials can probably be found somewhere in your home, but now it's time to put a greater emphasis on leisure reading as a hobby. Begin to schedule times for your family to read together, whether aloud as a group or each with their individual reading materials, and discuss what everyone is reading. As leisure reading becomes more regular in your family you'll likely discover that these discussions become more effortless and common in your home.
If you answered "yes" to nine or more questions -then your home is most likely conducive to reading. Analyse your results and determine to which questions you answered "no", then work on changing these to positive answers. If possible, splurge a little bit on new reading materials or home furnishings which will convey to your family how serious you are about reading and how much value you place on this leisure activity. Themed reading months, fun family reading "competitions" and reading related rewards for reaching stated goals can all be great ways to reinvigorate a love of reading in your home.
You might also like...