Organising a Readathon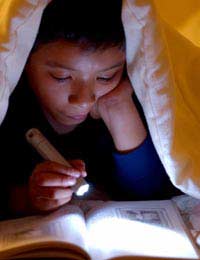 A readathon is a great way to encourage reading, work up extra enthusiasm for books and raise money for a deserving charity all at the same time. A readathon is basically just an event in which people pledge to read in order to move towards an ultimate goal. Usually this goal is to raise money for charity. Readathons are not hard to organise, in fact all you really need to do is select a deserving charity, decide on a fundraising method, ask for readathon volunteers and work out the logistics of your readathon. If you'd prefer to be involved with a readathon larger than just one class or school, consider joining a larger readathon run by an external organisation.
Selecting A Deserving Charity
When you begin organising your readathon think carefully about the charity for which you would like to raise money. Is there a link between that charity and your class? Is one of your students fighting a disease that has a charitable group associated with it? Did you class have a pet and would like now donate to an animal welfare group? Does your school have a relationship with a particular charity or organisation? Did your class just finish reading a book centred on an issue for which there is a charity (for example, bullying)? Think hard about your class and all that you have done together and an answer may become obvious.
Deciding On A Fundraising Method
How you raise money during a readathon is up to you. Will you ask students to seek out people to donate for every book, chapter or page they read? Will you ask students to secure sponsors who will donate a lump sum to go towards the donation if they read a set number of materials? Will you look for local or corporate sponsors who will donate according to the overall accomplishments of the class? If you feel that your class would benefit from friendly competition then you might wish for children to raise money individually, while if you are more interested in a cooperative activity then you might prefer to raise money as a group.
Asking For Readathon Volunteers
Children's readathons require a certain amount of adult involvement. Adults may be needed to help you secure a charity for your donations, a sponsor for the event and to provide assistance with keeping track of each child's reading record and the funds they have raised. Volunteers may also be needed to help with the readathon if it will take place on one particular date, to issue receipts or thank you letters to all who have donated, or to help children select and access books. Getting parents and older siblings involved will also help students become more enthusiastic about the event because their families will be involved and excited as well.
Readathon Logistics
Readathons generally either take place for a set period of time (a month, a marking period, etc) or for one day only. Readathons which go on for more than 24 hours often have the ability to raise more funds because children can read more, but they also require sustained effort and enthusiasm, more reading materials, more concentration to keep track of sponsorship forms and money. Such readathons can be run during the school year, with time devoted to reading in some classes, or during holidays. Readathons which take place on one day have the advantages of being fast, exciting, easy to keep track of (forms, money, books, etc) and an interesting day for all involved. Such readathons may raise less funds, however, as students will not be able to read as much, must be completed during the school year and require time away from other lessons which would have been taught on the day of the event.
Joining A Larger Readathon
Classes interested in conducting a readathon but which feel more comfortable with already established events have a number of options for their events. Readathon® is a charity which is dedicated to reading campaigns and even provides free books and reading resource packs at times. The Multiple Sclerosis Society benefits from readathons in many different countries and some literary, books and writing festivals also conduct readathons as part of their itineraries. Check in with other teachers, education departments, libraries, book trusts and charities to find out if any of them know of readathons your class could join.
Organising a readathon is a worthwhile endeavour. Select a deserving charity, decide on a fundraising method, ask for volunteers, sort out the logistics or even consider joining a larger, more established readathon in order to give your students a great event and do some good for a worthy cause.
You might also like...