Books for Boys and Girls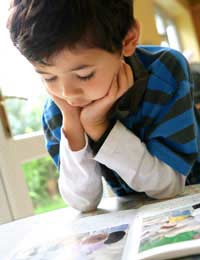 Many parents and educators helping children to read are anxious to introduce the "right" books to their young learners. However there really are no perfect choices, for so much is dependant upon your son, daughter or student and his or her personality and background.
With that being said, there are certainly book titles that repeatedly appear on reading lists for boys and girls. In no particular order, we've encapsulated some of them here to get you started as you pave the way for a lifelong love of reading in your special young person.
Some Popular Books
Mad about Madeline: The Complete Tales
Bemelmans, Ludwig - Spunky Madeline stirs up fun with her lively imagination and engaging adventures in this classic series of stories.
Best for Ages: 4-8
The Runaway Bunny Lap Edition Brown, Margaret Wise - This sweet tale exemplifies the unconditional devotion every mother has for her baby.
Best for Ages: birth-8
The Very Hungry Caterpillar Board Book and Block Set Carle, Eric - What happens when a caterpillar is so hungry that he eats right through the book? This short (but beautifully illustrated) book is a great intro to reading.
Best for Ages: birth-5
Make Way for Ducklings (Picture Puffins) McCloskey, Robert - Loosely based on a true story, McCloskey brings to life the search that leads two ducks to make Boston their home. Delightful and witty from beginning to end.
Best for Ages: 4-8
Where The Wild Things Are Sendak, Maurice - Sendak's famous work has received acclaim all over the world since he first published it over 40 years ago. Kids of all ages can't help but be mesmerised by the incredible illustrations.
Best for Ages: 2-4
The Giving Tree, Silverstein, Shel - A sweet tale that revolves around the relationship between a boy and a tree, this book helped seal Silverstein's reputation as a true literary artist.
Best for Ages: birth-4
Library Lion Knudsen, Michelle - What happens when a confident (but mighty big) lion strides into the library? He's accepted unconditionally… almost.
Best for Ages: 4-8
Any books authored by Dr. Seuss - Whether you pick up "The Cat in the Hat", "One Fish, Two Fish, Red Fish, Blue Fish", or "Green Eggs and Ham", it's hard to go wrong with anything written by Dr. Seuss.
Best for Ages: birth-8
The Complete Adventures of Curious George Titles Rey, H.A, Curious George, that mischievous monkey who gets into scrapes that always wind up working out for the best in the end, is a staple among young readers. Who could resist such an adorable face?
Best for Ages: birth-8
Ramona's World (Ramona Quimby (Harper Paperback) Cleary, Beverly - Ramona is a normal, precocious young girl who has a feisty feline, a (sometimes) annoying big sister, and a plethora of misadventures. Not only is she likable, she's also a character to which little tomboys can relate.
Best for Ages: 8-12
Best-Loved Classics - The Lion, the Witch and the Wardrobe Lewis, C.S. - This science fiction novel with moral overtones is a much-loved classic by parents and kids. Not only do the characters practically leap from the pages, but the text weaves magic with miracles effortlessly.
Best for Ages: 8-12
Where the Sidewalk Ends Silverstein Shel, Silverstein's collection of humorous poetry will have young readers giggling… and their parents might just find themselves chuckling, too!
Best for Ages: 4-10
Charlotte's Web" White, E.B. - The touching story of an unlikely friendship between a pig and a spider is timeless. This book is a great introduction to "chapter" novels.
Best for Ages: 8-12
From the Mixed-Up Files of Mrs. Basil E. Frankweiler Konigsburg, E.L. - What happens when kids run away and hide overnight in New York City's Metropolitan Museum of Art overnight? In a nutshell, more than any reader could possibly predict.
Best for Ages: 8-12
Little House on the Prairie Series Wilder, Laura Ingalls - Laura Ingalls, a young girl from the United States Midwest, grew up to become the author of a series of books about her family life during the latter part of the 19th century. Each book chronicles the trials and tribulations of a real pioneer family
Best for Ages: 8-12
You might also like...