Autism and Learning to Read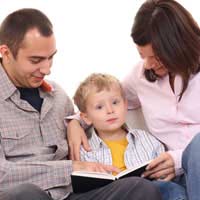 Broadly defined autism, autism spectrum disorder, and Asperger (or Asperger's) Syndrome (all called "autism" for the purposes of this article) are conditions that affect behaviour, social interaction, and verbal/nonverbal communication.
About four times more common in boys than in girls, autism has finally been acknowledged by society and medicine; however, it is not yet fully understood. That realisation alone makes teaching children with autism to read very difficult for the parent or educator.
Adding to the complexities is the fact that all autistic children are quite unique, especially from one another. Where one may be incredibly sensitive to touch and sound, another may crave such things. Another may be overly excitable, whereas another may sit in a corner emotionless. Many specialists have tried to understand and explain autism as a disease that operates on a "spectrum"; still, that doesn't provide many answers for those helping their autistic kids to learn their ABCs.
Studies have shown that many children with mild forms of autism can not only be taught to read but also to write quite well; of course, they may be "behind" their peers. This is to be expected and is not reason for dismay. After all, many kids who are not labelled as autistic have those same developmental and academic delays.
You and Your Autistic Child
The most pertinent advice when approaching the topic of autism and reading is to know how your individual son, daughter, or student prefers to learn. Like all children, the boy or girl with autism needs to be taught in a manner that best fits his or her personality and needs.
For many autistic children, learning to read involves a great deal of discipline, structure, and patience on both the part of the teacher and the part of the learner. This is especially true for the nonverbal youngster with autism who can learn to read, but will not be able to explain when he or she is experiencing problems. In those cases, you as the coach will need to carefully "listen" to his or her body signals; often, physical signs will reveal a host of information.
Learning to Read: Phonics
Phonics is nothing more than the sounds used in the child's native tongue (or language he or she will be expected to read).
Learning to read by using a phonic system works very well for many autistic boys and girls. Flash cards and pictures have proven very useful for teaching phonetics to both autistic and non-autistic learners.
Learning to Read: Memorisation
Some autistic children learn to read by sheer memorisation.
Once they understand what a word means (you may have to help them by drawing a picture of a noun or making a visual connection in some other way to a verb or adjective), they retain the spelling of that word.
Though this reading method works, it does make it difficult for children to read new terms in the future, as they are unable to "sound out" letters.
Learning to Read: Optimism
One of the most critical aspects of teaching a child with autism to read is to make certain the experience is a positive one. If learning takes on a negative connotation, no young person will be able to feel comfortable in the classroom environment.
Consequently, parents and educators should work in short "bursts" with autistic children, keeping alert for boredom, agitation, impatience, distractions, and nervousness.
Autism Doesn't Have to Mean Illiteracy
Will it be a challenge to teach your autistic child to read and write? Absolutely. But that shouldn't stop you from trying.
Opening the autistic boy or girl to the written world is a blessing for both him or her and you. Enjoy the journey as you explore reading together.
Suggestions for teaching the autistic child to read:
Keep distractions (such as outside noises, bright lights, et cetera) to a minimum
Try to think like your autistic child – if he/she loves animals, use pictures of birds, cats, and dogs to help him/her learn to read
Songs and music work for some autistic children – help them learn their sounds through lyrics
This is the day and age of the computer; use it to your advantage by introducing your child to reading lessons online, many of which are available at low or no cost
Keep trying a variety of reading techniques – eventually, you'll find the perfect one for your autistic child
You might also like...
I am a T/A in an 8.1.1 classroom of 16 to 18 year olds.The teacher tells me it's too late for them to learn letters, numbers or even reading at this stage. She has even stated how would teaching letters and numbers benfit them. My question is, Can they still learn this?. I believe they can. Thank You
Gret
- 3-May-16 @ 7:59 PM