Dyslexia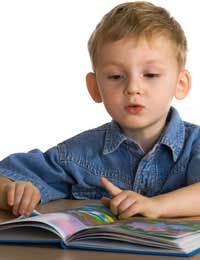 For both parents and children dyslexia can seem like an enormous stumbling block. A brain dysfunction characterised by problems related to reading and understanding written texts, dyslexia has finally been brought into the light by forward-thinking scholars in an effort to help those struggling with the learning disability.
Though statistics vary, most assume that around 16-20% of all people have dyslexia in one form or another. For some individuals, the dyslexia is so mild that they themselves might be practically unaware of it; but for others, the condition is something to be battled, especially when it comes to Learning to Read.
What is Dyslexia?
The media has simplified dyslexia and usually associates it with the reversal of letters; for instance, "dog" might be seen as "god" and vice versa. But it's important for educators, mothers, and fathers to know to that the majority of young children reverse their letters when they are first beginning to read (such as saying "b" for "d".) Therefore, letter reversal alone is not a definite indicator of the condition.
A better way to talk about dyslexia is to consider it a contextual problem related to the way letters and sounds are learned and understood.
As an example, a child without a learning disorder such as dyslexia has no problem associating the "mmm" sound with the letter "m"; but the dyslexic child cannot easily grasp that connection. This makes learning the 40+ Phonetic Sounds used in the English language a challenging task. And because "sounding out" words (commonly taught in the classroom environment) is made incredibly difficult, many students become frustrated and impatient with themselves and the learning process.
For a few dyslexics, delineating between two similar sounds (like "m" and "n") may also be problematic. Additionally, dyslexics may not uniformly reverse all letters in a word but simply do so with a few ("snowman" might be seen and/or spelled "sonwman".)
Dyslexia and Reading
Teaching the dyslexic child to read takes a serious amount of time and may be best described as "trial-and-error". It is something that must be coordinated between parents and educators to ensure the boy or girl gets the most solid, holistic reading experience. After all, when mothers and fathers can support what's happening at school, the dyslexic child will have a much better chance of learning to read at an age-appropriate (or nearly age-appropriate) pace.
As with all children, parents can help their dyslexic sons and daughters by first observing how the dyslexia is "playing out" for the youngster. For instance, if letters are reversed but sounds are understood, phonics may be a satisfactory way to introduce reading to the child. On the other hand, if sounds are perplexing for the young person, the parent or teacher will need to find some other way to help the child create words out of letters, such as using a "whole language" method of learning to read.
In the end, if you're at all concerned with a student's reading comprehension and language acquisition, it's important to seek out a professional diagnosis as soon as possible. From there, you can help that special youngster to explore the magic of his or her native tongue.
A special note to the loved ones of a dyslexic child:
Unfortunately, the label of "dyslexic" comes with a negative connotation, especially among the dyslexic student's peers. Therefore, it's of critical importance that mums and dads consistently and genuinely encourage their tots to try again and again. Celebrate the small successes, and you'll all reap large rewards.
You might also like...