Learning to Read English as a Second Language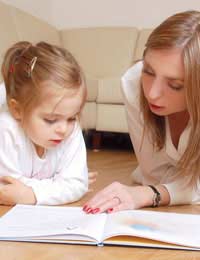 Learning to read is challenging enough; learning to read English when your native language is something else makes the process even more complex. Though most children are naturally able to adapt to eventually being able to speak a new language they might have trouble writing or reading it especially if they already learned to write or read another language.
Consequently if you're in a position to help a child learn to read English as his or her second language, it's essential to keep the following factors in mind:
A. Different Languages Use Different Characters
You may be accustomed to the standard alphabet used in the United Kingdom (A, B, C, et cetera); however, the child you're working with may come from a culture that uses completely different characters. Consider writings from Asia, the Middle East, and Russia - their alphabets are noticeably different than ours. Thus, it's important to realize that learning the ABCs might be tough for a child who is used to something else.
B. Not All Cultures Read from Left to Right
Reading from left to right (as you're doing right now!) seems perfectly natural if you're from an English-speaking country; however, other cultures read from right to left or top to bottom. If your student is coming from one of those areas of the world, he or she will have to be retrained in how words are read before he or she can become literate in English.
C. English May Not Be Spoken, Written or Read at Home
If you're an instructor for children who are learning to read English as a second language, you may be in for a surprise - many households do not speak English. Therefore, it could take much longer for a boy or girl to acquire fluency in the English language, especially if Spanish, Japanese, or Indian is exclusively spoken, read and written by his or her parents and siblings. Should this become a roadblock, it may be wise to discuss with the child's mum or dad some ways that they can help their son or daughter by immersing the whole family in an English-as-a-second-language speaking and reading program.
D. Some Sounds May Not Resonate with Your Students
We tend to believe that our alphabet uses all possible sounds; however, the human voice can actually produce many others (such as the "clicks" often heard in African dialects.) Therefore, it might be difficult for a child to "hear" some sounds that were not commonly used in his or her native tongue. For example, some Asian speakers have trouble distinguishing between "R" and "L". For other persons, the letters "B" and "P" sound the same. Therefore, sound exercises may be necessary to help the child hear the difference between similar sounds.
E. Patience Is Required at All Times
As the instructor to children learning to read English as a second language, you will no doubt become frustrated upon occasion. After all, the process of teaching reading can be exasperating at times for everyone involved. However, you must remind yourself to exercise extreme patience with the youngsters in your class or group. Remember that they will probably take a little longer to become literate in the English language; that's to be expected. So celebrate the mini successes… focus on the journey and not the destination.
You might also like...