Reading Games: Treasure Hunts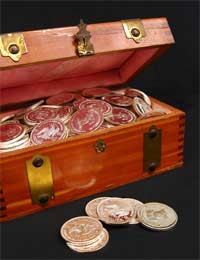 Are you looking for a unique way to help your child find the joy in learning to read by him or herself? Then why not try introducing a treasure hunt into your literacy learning process?
Treasure hunts are relatively easy to organise and will make a lasting impact on your child!
Recommended Ages for Treasure Hunts
Young children approximately 5-8 usually enjoy this game.
(Please note that kids should already know the alphabet and have some understanding of the sounds attached to letters.)
Time Needed for the Treasure Hunt Activity
Anywhere from 15 minutes to an hour
What You'll Need for Your Treasure Hunt
1. Ten Items to Hide (inexpensive and small toys, coins, candies and other trinkets or baubles are good)
2. Sheets of Paper for Clues
3. Pen/Pencil (for writing clues)
4. Places to Hide Items
What to Do Before the Reading Treasure Hunt Activity
1. Hide the ten items. (If you're in a house or classroom setting, play this treasure hunt activity in one or two rooms at most so it isn't difficult during the first go round.) Make sure you know where each item has been hidden!
2. Write 10 simple clues to help your child find each item. For instance, if the item is behind an azure-coloured chair, you could write a short clue that says: "I am behind something blue."
3. Hide clues 2-10 with the appropriate items so as the child finds each item, he or she will also find the clue to help locate the next item.
During the Activity
1. Hand your child the first clue and help him or her read it. Assist your youngster with the sounds associated with words and use the experience as a learning opportunity. Make it fun, though, and don't allow either one of you to become too frustrated! If your son, daughter or student shows signs of anxiety, you can read the clue for him or her to keep the game moving.
2. As each new item and clue is found, allow your child to play with the item or handle it. Don't rush the process if your young person wants to admire his or her treasures! This should be enjoyable and not feel like 'school'.
3. At the end of the activity, praise your child. Be specific. Don't simply say, "You did well!" Instead, say, "I was really impressed when you sounded out the word 'red'. You're becoming a good reader!" This will reinforce the notion that reading is important to you and should be to him or her, too.
Alternative Ways to Play Treasure Hunt Reading Games
1. Hide puzzle pieces. When the child finds them all, the puzzle can be completed.
2. If your child is just beginning to write, have him or her make clues and hide items for you!
3. Take digital photos during the treasure hunt. Kids adore seeing themselves on camera and will like reminiscing about the experience while looking at their pictures.
4. Give your child a certain amount of time to find all the items. (This is only appropriate if your child can read simple words fairly well or is unlikely to become too discouraged if he or she doesn't find everything in the time allotted.)
5. Play the treasure hunt outside for an interesting alternative to an indoor location.
You might also like...