Hosting a Book Themed Party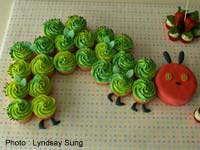 Budding bookworms will no doubt be thrilled with a book themed party for their next special day. In the midst of children's parties taken over by commercialised characters and film tie-ins, book themed parties not only stand out as unique, but are a welcome relief from the same old thing. Whether you want to throw a party patterned after a particular book, or a party dedicated to books in general, you'll need to decide upon invitations, decorations, party favours, refreshments as well as games or other activities for your guests to enjoy.
Book Themed Party: Invitations
Invitations generally convey a sense of the theme of a party, so sending out invitations associated with books is a good idea. For example, invitations which can double as bookmarks, or which look like old fashioned book plates or even library cards would all get across the book theme of your party. Though it would be a little more work, sending invitations pasted inside of old books, or creating mini-books to act as invitations would also be festive.
Book Themed Party: Decorations
Book party decorations will obviously include books! Show off favoured books on their own, in piles or arranged displays, or by putting them in stands so that they are open to show off beautiful illustrations. Garlands made of book pages or book covers, posters of favourite literary characters, even book "reports" written up by your children can all become creative decorations at a book themed party.
Book Themed Party: Favours
Kids love party favours, and a book themed party provides many options. Special bookmarks, paperbacks or picture books, colouring or craft books, reading journals, book-related stickers, notebooks and pencils for writing stories, even book tokens are all great party favours to offer guests. If your guests are all different reading levels then personalising book selections is important so that you don't inadvertently offend or frustrate a guest with their party favour.
Book Themed Party: Refreshments
Serving refreshments based on food and beverages offered in favourite books is a great way to expand your book theme. Ask your child about their favourite stories and re-read them to determine if there are any notable food or beverages involved, or items which could be related to the tile of the book. For example, something peach flavoured could be related to James and the Giant Peach by Roald Dahl, while gummy worms might stand for The Very Hungry Caterpillar by Eric Carle. If necessary, make small cards explaining the dish and which book it relates to, including a small image of the book cover if possible.
Book Themed Party: Games and Activities
Not all children's parties involve games or other activities, but if you want to plan something for your little guests to do then a book themed party provides multiple options. You might decide to offer crafty activities like making bookmarks or decorating large stickers to act as bookplates. You might organise a game related to the plot of a book, such as hiding a teddy to be found for We're Going On A Bear Hunt by Michael Rosen. You might play a game of charades in which each answer is the name of a popular book, or play a game of memory in which the images are book covers. Your options are only limited by your imagination.
Hosting a book themed party is a great option for young children. Get creative with your invitations, decorations, party favours, refreshments and activities and no doubt you'll throw a book themed party to be remembered for years to come.
You might also like...