Hosting a Children's Book Swap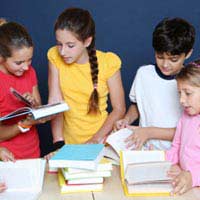 One of the best ways to keep children motivated about reading is to ensure that they always have a good supply of reading materials on hand. Unfortunately, books can be expensive to buy if your child reads quickly, and libraries won't necessarily have stock that interests your kids. A great way to get around such limitations is to host your own children's book swap. Not only will you be able to have an entertaining and social afternoon, but each child will walk away with new reading material and, hopefully, excitement about reading.
Children's Book Swap Guest List
A good children's book swap is one in which there is a great number of varied options. To achieve this mix, think carefully about who to invite to your book swap. Consider the reading levels and ages of guests, as well as their preferred reading materials. If you want to invite kids who aren't particularly friendly with your children consider making your event a family swap so it will feel less forced upon the children. Don't forget to ask your friends who might be good in a swap because this event is great for meeting new people and sending everyone home feeling like they've come into free books. When you send out invitations, be clear about the type of books you'd like at the swap (fiction or nonfiction, graphic novels, nothing branded or associated with films or television programmes, etc.) and be specific about if other items (reading related video or computer games, for example) will be welcomed as well.
Children's Book Swap Supplies
Conduct a children's book swap a bit like a
Party
so that your kids will look at it as a fun treat. Offer drinks and snacks, and hand out party or gift bags for the kids to cart away their new books. Hanging up book themed decorations and offering book-related goodies like book covers, reading journals or bookmarks, might also be an option if you have the budget. Don't forget more basic supplies as well, like chairs for all attendees to sit, tables for displaying books and nice music to play in the background.
Rules of a Children's Book Swap
There are many ways to organise a children's book swap. Most important is to count up the books each child brings, and ensure that they only leave with that same number. Alternatively, ask children to bring the same number so that you don't need to worry about counting. You might decide each child's books will be placed into a box or basket and then rotated to children in turn, or you might decide to display books and let the children move around in turn. If you opt for displaying books, consider group books by fiction or nonfiction, or even more specifically by genre so children will be more likely to find something they are interested in. Draw numbers to determine the order in which children will choose. Consider appointing an adult "leader" who will ask each child about his or her selections to make sure the children all understand the choices they are making. If desired, also offer children the option of having a 10 or 15 minute "open" period at the end of the swap in which they can attempt to negotiate for books they would prefer. This can get a little tricky though, as peer pressure and unfair deals might come into play, so be ready to referee during this time.
Unwanted Book Swap Books
If, at the end of a book swap, you are left with items no child wants to take home, donate these books to a local library, school, after-school group or children's hospital. Consider having a card on hand for all of the involved children to sign so that they feel more connected to the donation.
Hosting a children's book swap is a great way to strengthen friendships and supply kids with new reading material. Though the guest list and supplies are important, it's implementing fair rules which will allow all children to enjoy the event and feel good about donating any books which are not selected.
You might also like...