Make a Story or Poem Into a Reading Adventure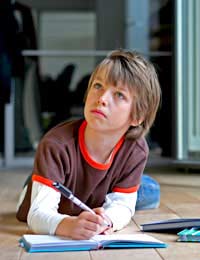 Are you looking for a new way to make learning to read a fun experience for both you and your child(ren)? Try turning a story or poem into an activity that you both will love!
Below, we've outlined exactly what you'll need for this terrific literacy game.
Turn any story or poem into a reading adventure:
Who says that stories or poems need to remain as written? Breathe new life into one today by turning it into a reading adventure for you and your child!
What You'll Need:
A story or poem (can be one you've read previously or one that is new to you and/or your child)
Paper
Pens/Crayons/Pencils
Other Crafty Items (e.g., stickers, buttons, glue, tape, string)
Your Imagination!
You will need at least 10-15 minutes, possibly up to an hour or more for this activity.
How to Play the Reading Game:
Read the story or poem with your child – Make certain that you don't simply rush through it. Allow your child to participate in the process by either reading short words (or finding letters on a page) or pointing out pictures (if applicable).
Talk about What Might Happen Next in the Story or Poem – Kids are amazingly inventive, so start a dialogue with your child about what could happen next to the characters in the story or poem. Depending upon the age and personality of your youngster, you may have to initiate the conversation, but resist the temptation to do all the work for him or her! Remember – no idea is too far-fetched!
Write the new version of the story or poem – Acting as the 'scribe' for your child (if he or she cannot or will not write on his or her own), pen the new version of the story or poem exactly as he or she dictates. (Of course, feel free to add your own unique touches as well!) During the course of writing everything down, take opportunities to point out words (especially short 'sight words' such as 'the', 'to', 'and', et cetera). (NOTE: Write only a few words or one sentence on each page in anticipation of step number 4!)
Illustrate the new version of the story or poem – You and your child can now illustrate your version of the story using anything imaginable – crayons, markers, pencil drawings, pictures cut from magazines, family photos, stickers or buttons. Fully commit to this task with your child, again pointing out words that are being illustrated. For example, if your son or daughter draws a dog running, you can ask, "Can you find the word 'run' in the story?" This allows your youngster to participate in a fun way… in fact, he or she probably won't realise that learning is taking place!
Read the new version of the story or poem aloud together – After finishing your updated version of the original story or poem, spend time reading it aloud together. If you think your child is ready, you can even ask him or her to remember some of the 'sight words' the two of you discussed during steps 3 and 4. However, if your child is losing patience or becoming frustrated, you can simply read without asking for any kind of input.
Activity Variations
If your child is up for it (and you're up for it, too!), turn this adventure into a playful one and act out the final version of the story! This can be done either through pantomime or with simple costumes and works well, especially if you have a few children to teach and entertain. Continue to do this activity on a regular basis and start a 'library' of stories or poems that have been written by you and your child. Chances are good that these addendums to popular books and verses will become treasured memories from your youngster's childhood.
As your child becomes more computer literate (and if you're comfortable doing so, too), allow him or her to write stories using a word processor. (Illustrations can also be tackled via PC or MAC using relatively inexpensive photoshopping-style software.)
Why This Activity Works
This activity is a low-key way for the youngster who is just starting to read (or recognise letters) to begin to see books and poetry in a new light. By bringing the subjects alive (and manipulating the tale in the process), the child will begin to associate reading with enjoyment, a key to a lifelong love of reading. This activity also helps the adult (whether parent, guardian, teacher or caregiver) to establish a strong bond with the child or student, making future 'learning to read' adventures easier.
You might also like...