Phono-Graphix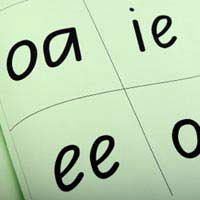 Never assume that there could not possibly be a new way to teach reading. In 1993 parents and educators Carmen and Geoffrey McGuinness of the non-profit "Read America" shared with the world a revolutionary new system of teaching kids to read and spell. They termed their innovative programme Phono-Graphix (or Phono-Grafix, as it's sometimes spelled) and it soon became recognised on a global scale for its usefulness in demystifying the English language for children.
What is Phono-Graphix?
The basic premise of Phono-Graphix is that teaching children that each letter of the alphabet represents a single sound is perplexing and perhaps somewhat inaccurate. After all, pairs of letters can also be representative of sounds. Thus, the traditional teaching method of Phonics alone forces youngsters trying to learn how to read to also memorise the various rules (some highly confusing, even for adults) of the English language.
Instead of teaching children that each letter is a sound unto itself, Phono-Graphix teaches kids that letters and groups of letters are "sound pictures", each representing phonemes. In the English language, there are approximately 134 of these phonemes (also known as "sound pictures"); once children become familiarised with them, they can effectively "decode" any words. There's no memorisation of whole words, no "sounding out" of words using single letter sounds… there's only "decoding", which takes the pressure out of the process for many children who are overwhelmed.
It's an intriguing concept, and it's all the more impressive when exploring the statistical evidence behind the Phono-Graphix programme.
Does it Work?
In most studies, students who learned to read using this method had a 98% success rate… and they were "decoding" words and sentences in record time. Even those who had been struggling in a classroom for years rapidly found themselves "decoding" words with ease. In fact, most kids reached their age-appropriate grade levels in a mere 12 hours of using the Phono-Graphix learning method, a phenomenal percentage.
But even with such positive results, Phono-Graphix has not been embraced by all schools or educators; however, that hasn't stopped its influence. Today, Phono-Graphix is especially popular among parents and teachers of children with learning disorders such as ADD, ADHD, and dyslexia, as its structure and low time commitment resonate with children who have special needs. By referring to letters and groups of letters as pictures and codes, many learning disordered kids connect to reading naturally and almost effortlessly.
That brings us to the million pound question…
Will Phono-Graphix Work for Your Child?
Though there's no guarantee of success, the numbers backing up Phono-Graphix make it a good bet. Around the Internet, many parents and teachers are touting it as the most straightforward method of teaching reading they've ever seen. Best of all, mums, dads, and guardians can start with their children as early as age three by picking up the McGuiness' 1998 book, "Reading Reflex", which outlines the Phono-Graphix method. This 368 page workbook contains all the information needed to guide a child quickly through phonemes and word "decoding."
So why not give the Phono-Graphix programme a try with the child or children in your life? If nothing else, it's a fascinating way to look at the alphabet, words, and sounds. And who knows? Phono-Graphix might even change the way you look at your own language!
You might also like...