Different Learning Styles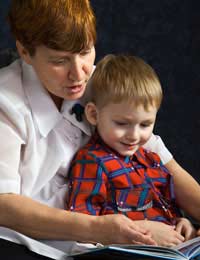 Just as people differ, so do their learning styles. Consequently, this is a critical fact to remember when it comes to helping any student begin to read. Regardless of the age of the learner, whoever is instructing him or her needs to be attuned to the natural, preferred way that he or she masters a new activity.
Generally, most experts give credence to three specific learning styles – auditory, visual, and kinesthetic. Though most individuals use an amalgamation of each (rather than only using one or two styles), there is typically one that holds a stronger appeal for each person.
To help you better understand your child in order to pave the way for a positive, rewarding "learning to read" experience, we've compiled some general indicators of the styles as well as hints for teaching each style below.
Auditory Learners
How to Spot Them:
Auditory learners tend to think in terms of sounds. These are the students who only have to hear something once; even if they haven't taken notes, they will remember what was said.
How to Teach Them to Read:
Auditory learners do well when taught how to Read Phonetically, using organised linear patterns, as their thinking is very sequential in nature. But they may have trouble if asked to complete exclusively visual tasks.
Helpful Tips:
Although a great many classrooms are set up in an auditory manner, only about 10-25% of all learners could be labelled as auditory.
Visual Learners
How to Spot Them:
Visual learners tend to think in "pictures". As spatial learners, they need to take notes when learning something new; if they simply hear a lesson, chances are good that their retention will be low.
How to Teach Them to Read:
Because visual learners use their eyes so heavily, they need to be able to see something (such as a picture), not simply hear how to complete a task. If you have this kind of child, he or she may memorise words as a whole rather than learning phonetically how to put sounds together.
Helpful Tips:About 33-40% of all learners fall into this category. Usually, they like to sit in the front row where they can "read" the teacher's body language as he or she speaks.
Kinesthetic Learners
How to Spot Them:
Kinesthetic learners tend to be hands-on. If a kinesthetic person is asked to describe the word "fluff", he or she will probably talk about what "fluff" (such as the down of a baby chick) feels like, not what the word sounds or looks like.
How to Teach Them to Read:
Because kinesthetic learners have to always be "doing" (rather than hearing or seeing), blocks or other easily manipulated objects and physical aids are suggested during reading classes or sessions. These tactile students work best in an atmosphere where they can dance, move, and play while exploring how to read.
Helpful Tips:
Approximately 42-50% of all learners are classified as primarily "kinesthetic". Ironically, most teachers are not trained in many methods to instruct these learners. Thus, some children who are actually kinesthetic learners may be mislabelled as having ADD or ADHD.
As a final note, be sure to remind yourself frequently that teaching someone to read involves taking into consideration his or her favoured learning style… and not your own. Often, parents and teachers instruct in their preferred learning styles, a recipe for frustration for all parties involved.
You might also like...