Helping Children Choose Books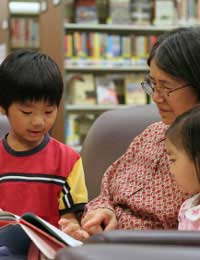 As with many things children often become more excited about reading when they are allowed to take control and choose their own books. This does not mean that adults should relinquish all authority and let children buy or borrow any book they want, but rather that adults should make a concerted effort to help children narrow down their options. Parents, grandparents, siblings, relatives, teachers, librarians and babysitters are all adults who may find themselves in a position to help children Choose Books. Thinking about a child's interests, reading level, favourite books and why he or she will be reading the book should all assist you in working with a child to choose interesting, enjoyable books.
A Child's Interests
It should go without saying that a child will enjoy a book more if it is about a subject in which the child has an interest. Ask a child about his or her favourite hobbies, sports, subjects at school, even what they like to do on holidays or where was the best place they ever travelled. Similarly, ask a child about the one hobby, sport, subject, activity or trip in which (s)he has absolutely no interest. This will help you weed out books about topics or themes that won't interest the child while at the same put together a wish list of the types of things the child will be excited to find in a book. Having these discussions before entering a bookshop or library should help both the adult and child from feeling overwhelmed with choices, and in fact can lead into a great teaching/learning experience about how to find books on particular topics.
A Child's Reading Level
Just as important as the content of books for children is the reading level. The reading level of a book is often determined by the length of the book, chapters, paragraphs and even sentences as well as the vocabulary used, if pictures or illustrations are present and the intended audience for which it was written. Many publishers, bookshops and libraries group books for particular reading levels together, for example "easy readers" for those just learning to read on their own or "middle grade" for older primary school children. It is important to remember though that just because many books are grouped by age or grade that this is not a one-size-fits-all method so many children may read above or below an expected level. Knowing the level at which each individual child reads is important to helping him or her choose the most appropriate books.
A Child's Favourite Books
Helping children review their reading histories should also help them choose books. Ask a child about his or her favourite book and why (s)he likes it so much. Then ask him or her about two or three more books (s)he enjoyed and what (s)he liked about them. Finally, ask the child about books (s)he hated and help him or her pinpoint what it was about the books that turned them off. Use this information to target books that the child might like in the future. Children's librarians, school librarians, teachers and booksellers may all be able to recommend books that are similar to a child's favourites. Finding other books by beloved authors, looking at a publisher's catalogue and browsing Amazon's "lists" feature may also help. If it turns out that the child doesn't enjoy one of the books you target then use this new information to refine your ideas in the future.
A Child's Reason for Reading
Children read books for a variety of reasons. Some read fiction for fun while others only read it if they must to fulfil a classroom or parental requirement. Nonfiction is often read as part of a school project or to answer a specific question. Sometimes graphic novels are even selected because a child thinks it's "not really reading" to get through one of those. As you help a child choose books, ask the reason (s)he wants to read. Depending upon the answer you could use this opportunity to help guide the child in research, explore new fiction genres or encourage the child in many "alternative" types of reading such as comic books, magazines or newspapers for kids. If you have a particularly techie child on your hands then you might also explore finding eBooks on the Internet and using electronic readers to see if this new format holds any appeal.
Helping children choose books that appeal to them and are useful for whatever purpose the have in mind can have a great impact on their literacy and enjoyment of reading. Considering a child's interests, reading level, favourite books and reasons for reading will all help adults better assist children in choosing books.
You might also like...