Flash Cards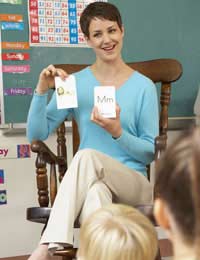 If your child is learning to read you may want to consider using flash cards to help him or her through the process.
The flash card (also sometimes written as "flashcard") has become a popular method of teaching youngsters how to recognise sounds, words, alphabet characters, phonemes, sequences, and foreign languages. Though you can certainly purchase flash cards in a variety of shops, as well as online stores, you can easily make some at home using simple index cards.
Below are some useful ways to create flash cards that can provide your child with the learning "edge" he or she needs to become a wonderful reader.
The ABCs
The Flash Cards: Take 26 index cards and write a letter of the alphabet on each one in bold pen or coloured marker. Make sure your writing is very exact and clear. Avoid writing in cursive or fancy script.
Activity 1: Each day, show your child a new letter of the alphabet. Have him or her repeat the letter's name (i.e., "ay", "bee", "cee"). As you include a new letter, make sure that you have him or her recite the ones already learned. For instance, on day five, he or she should know A, B, C, D, and E. This means you can randomly hold up any of those five letters to ensure that he or she can recognise them all. By day 26, your learner should be familiar with all the letters in the English alphabet.
Activity 2: Once your child knows the letters of the alphabet, you can begin working on those letters' sounds (or, alternatively, phonemes if you're using the Phono-Grafix/Phono-Graphix method of teaching your youngster to read). Start at the beginning of the alphabet by discussing all the sounds that "A" makes. Then, the next day, add "B" to the mix. Continue for 26 days as in the previous activity.
Activity 3: If your child is at the point where he or she can "sound out" some simple words, use the ABC flash cards you made to spell out short words like "cat", "hat", or "rat". Rhyming words are often the easiest with which to start, as they offer your learner predictability.
Words & Pictures
The Flash Cards: If you're a decent illustrator, you can make special flashcards with pictures and words all by yourself. Alternatively, you can find photos elsewhere for use on your flash cards. For example, you could cut out a picture of a dog from a magazine or advertisement, paste it on a flash card, and then neatly write the word "dog" below it. On the back of the flash card, spell out the word again, but without the picture.
Activity 1: Start by introducing a few flash cards with words and pictures per day and build over time. However, to make sure your child isn't merely using the illustrations without considering the words, occasionally flip over the flash cards so the child has to "sound out" or recognise the words without visual aids to offer clues.
Activity 2: Once you have dozens of these flash cards, you and your child can begin to "build" sentences. You'll have to make up flash cards for words that don't have associated pictures, like "A", "THE", "AND", "OR", etc. For instance, six flash cards are all that will be needed to come up with the phrase "A dog sat on a frog."
Remember that flash cards are only as useful as you make them. Even the most expensive, unique flash card deck in the world is useless without your commitment to making them a part of your child's reading process! So be creative and have fun as you explore how to make flash cards an integral literacy tool for your special someone.
You might also like...