Books for Children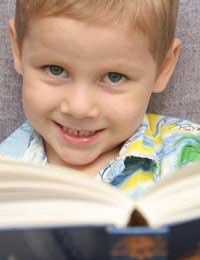 When seeking out tools to help you teach the child (or children) in your life to read it's not only important for you to choose practical reading materials but to also ensure that those books, magazines and other publications are suitable for your youngster.
Below are some general criteria helpful to parents and teachers who want to ensure that they are picking the ideal resources for their unique kids' needs.
Is The Book Age Appropriate?
Just as you might feel a tad overwhelmed reading a doctoral thesis on the anatomy of squid, your son or daughter may become nervous or rattled when trying to learn to read using a book that is too advanced.
Nowadays, there are many books that include age recommendations on their front or back covers; however, this isn't always a foolproof method of choosing the right ones for your child. It's recommended that any book you're using to help your boy or girl learn to read be perused by you beforehand. That way, you can be certain that it's age appropriate.
Is the Content Engaging?
Some books are simply better than others. If the content in the ones you're using to help your child learn the alphabet, sound out letters or match words with pictures is uninteresting, his or her "learning to read" process will be more difficult.
Most kids like books about children who could be their peers, animals (especially talking ones), and/or wacky scenarios. Just be aware that when you find one your child loves, you'll probably be helping him or her to read it over and over and over again! (So it's good if you can find a way to love it, too!)
Are There Ideas Included in the Book for Parents or Teachers to Use?
Some books are now being published with add-ons at the beginning or end of the text just for parents or educators. Those extra pages include "assignments" you and your young reader can complete together or which can be completed solely by the child for homework.
If your books do not have those types of suggestions, be creative and invent new ways of approaching familiar books. Have your child find all the letter "A"s on a page or randomly pick words for him or her to phonetically sound out. This will add variety and newness to even the most read books in your household or school.
Is There Enough Variety on Your Bookshelf?
Take a look at the bookshelf in your child's bedroom, playroom or classroom. Is there enough variety there to keep him or her stimulated?
Children who are learning to read typically need to be given many reading options to succeed. Thus, if your personal library is somewhat limited, why not take a trip to a brick-and-mortar library to check out some new reading materials? Not only will you be introducing your child to the beauty of borrowing books, you'll also be helping to increase his or her literacy level in a fun way.
Is the Book's Language Up-to-Date?
There are plenty of classic books that children still love, but not all of them are written in language that today's kids speak. Consequently, it can be tough for youngsters to use those books as reading resources because of unfamiliar or archaic speech patterns.
This isn't to say that you cannot enjoy reading a book from fifty or more years ago with your child or student. But do make sure that he or she isn't perplexed by colloquialisms of the time that are no longer commonplace.
You might also like...