Tools and Techniques: Software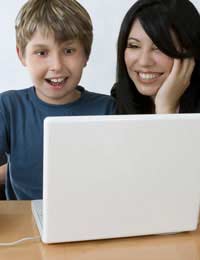 If your child is just beginning the process of reading, you may be interested in examining some of the reading software that's available. While much of it is of decent quality, be advised that there's more to consider than price range and snazzy marketing when choosing the perfect literacy-related software programme for your special youngster. Even excellent packages are useless if they aren't relevant to your child's needs.
To help you make your choice, we've outlined a variety of aspects to keep in mind before purchasing any software. Remember - you know your child or student better than any advertiser, so plan accordingly and don't be swayed by promises or too-good-to-be-true testimonials.
When considering reading software for your child…
Ask yourself, "What is my child's current reading level?" Be honest when you respond. Though you may wish your four-year-old was at a five-year-old reading level, if he's at a three-year-old level instead, you won't be helping him by investing in software that's too difficult.
Are you interested in software that's bilingual? Many parents today either speak two (or more) languages themselves or feel it would be beneficial for their children to do so as well. If this is the case, there are software packages available to help your child learn to read two languages practically simultaneously.
Does your child have any learning disabilities (LDs)? If you know that he or she does, why not pick a software programme specifically designed with his or her LD in mind? And don't assume that an LD precludes him or her from having a good experience with software - many children with LDs thrive when learning to read using a computer-guided curriculum.
Is your child even able to use a computer? And will you (or another adult) be supervising his or her progress? Without the proper know-how and supervision, a software package could produce unimpressive results.
Look for free or low-cost reading software for your child here…
Google, Yahoo!, et cetera - It's always a terrific idea to bring search engines into play. Just plug in your child's age (and any LDs or concerns) and see what hits you get for reading-related software packages.
Local library - At your local library, it's likely that you'll be able to find at least some information on software, if not actually programmes that you will be able to check out for free. Best of all, if one doesn't work, you haven't invested any pounds.
Your child's school - Many schools (both traditional and private) offer help to parents whose children are struggling to learn to read. Perhaps your school has literacy-related software available - but you'll never know unless you ask!
Ebay, Amazon.com, et cetera - Once you've decided on the appropriate software to try with your student or youngster, there's no reason you have to pay full price! With all the online auction sites on the Internet, you can probably find what you're looking for "on the cheap".
Make the most of your child's/student's reading software…
Be certain to work with your child. Don't allow the reading software program to become your child's tutor or babysitter. The more invested you are in the process, the better the outcome is likely to be.
If your child becomes frustrated, don't berate him or her or become angry. It's probably very difficult for your youngster to read at times, so take it easy on him or her. Breaks should be encouraged so learning is fun and not a chore.
Gauge your child's progress periodically. Really ask yourself if he or she is "getting anything" out of the software you've chosen. If the answer is "no", it's time to look for a different software package to explore.
Good luck and happy reading!
You might also like...